South Korea, officially the Republic of Korea, is a country in East Asia which occupies the southern half of the Korean peninsula. South Korea is the birthplace of makkoli (raw rice wine) and soju (a distilled spirit), both of which are highly popular. In addition to traditional drinks, imported wines have gradually appeared on Korean menus since the end of the century. The reason for this change is simple: Koreans' lives began to be rebuilt according to Western models, new gastronomic preferences emerged, and with them, wines also became fashionable.
On average, Koreans drink more than any other nationality in Asia. The country's gender difference is also noticeable in that South Korea men drink at least three times as much alcohol as women; the combined average may be 8.45 liters, but this comes down to 4.17 liters for women and 12.76 for men. Wine consumption is expected to reach 33.75 thousand metric tons per year by 2026. There has been a growth of roughly 0.3% a year since 2017, according to World Population Review.
According to Statista, revenue on the wine market will amount to €1.58 billion in 2023. Wine consumption by Koreans has demonstrated steady growth in recent years, reflecting the evolving preferences of consumers and their heightened interest in wine culture. The market is expected to grow annually by 4-5% in coming years.
South Korea's wine imports from all countries totaled a record high $581.2 million in 2022, up 14.8 % from 2021 and up 75% from 2020. Korea's wine imports demonstrate stable annual growth in recent years (see Figure 1).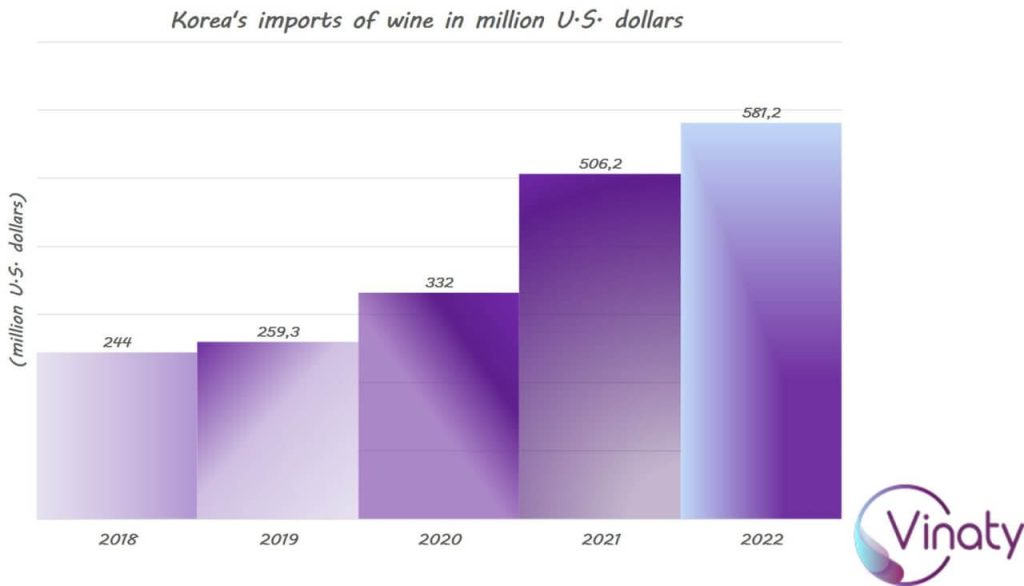 In short, South Korea is one of the largest and most stable economies in Asia, with a population that is increasingly embracing wine. The industry is expanding and consumer demand for imported wines continues to grow. In Korea, there are over 500 licensed importers of alcoholic beverages. Notable wine importers and leading distributors in South Korea include Kooksoondang Brewery Co., Ltd., Nara Cellars, Vinopia, W Wine Imports, Jebsen & Jessen (Korea) Co., Ltd, and Wine & People.
10.2% of total revenue will be generated through online sales by 2023. In 2021, Korea ranked 46th in the world for wine consumption.
According to the Korea Customs Service's trade statistics for 2022, France was the largest exporter at US$130.3 million, followed by the United States (US$95.86 million), Italy (US$71.17 million), Chile (US$65.11 million), and Australia (US$29.67 million). Sparkling wine imports from France and Italy also ranked highly: French sparkling wine imports stood at US$71.75 million and Italy US$14.35 million.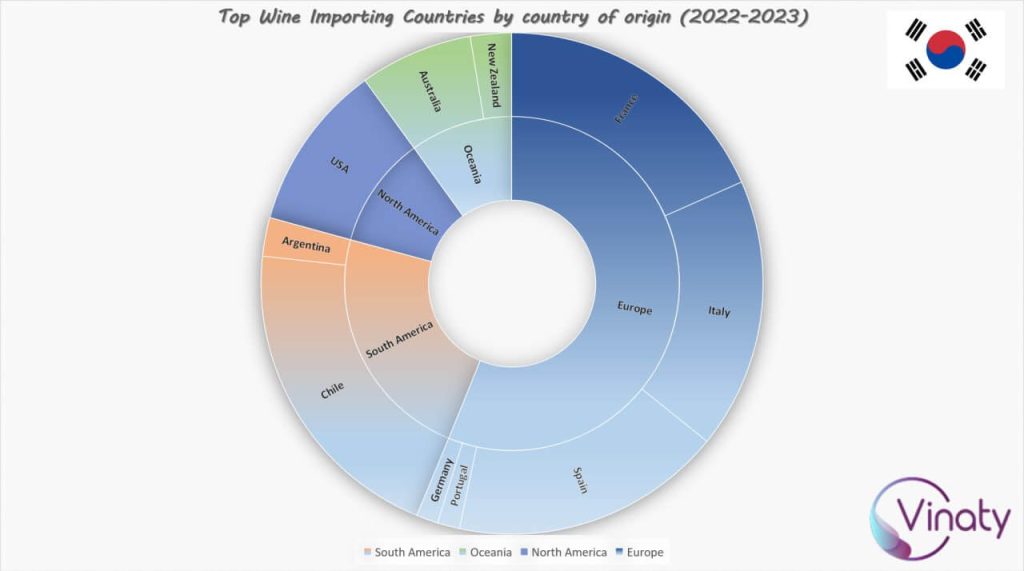 In terms of total volume, in 2022 the largest amount of wine from Chile (around 14.3 million kilograms). The other largest importers include France (12.75 mln kgs), Italy (12.17 mln kgs), Spain (12.16 mln kgs), USA (7.51 mln kgs), and Australia (5.06 mln kgs) (see Figure 2).
The highest demand in South Korea is for red wines. Some of the preferred red wine varietals include Cabernet Sauvignon, Merlot, and Shiraz / Syrah. Sparkling wines such as Champagne and Prosecco have been gaining popularity in South Korea, especially for celebratory events. While red wines dominate the market, white wines (Chardonnay, Sauvignon Blanc, Riesling) are also appreciated by South Korean consumers.
Summary
More South Koreans are choosing wine over beer and spirits as consumers believe that wine is healthier than other alcoholic drinks. Major retailers have introduced low-cost wines, making them more popular than beer and spirits, which are traditionally favoured. Korea has one of the fastest-growing eCommerce markets in the world and its population has an increasing thirst for foreign products. Wine importers and retailers in South Korea offer a diverse range of wines from around the world.